The government shutdown has dominated the news cycle this entire weekend. Recently, Congress also voted against continuing military pay in the midst of the shut down, proving that they do not care about American people.
However, one Representative, Jody Hice (R-GA) took his own measures to show that he stands in solidarity with our heroic men and women of the military.
Hice voluntarily suspended his own pay until such time as the servicemembers of this nation get paid.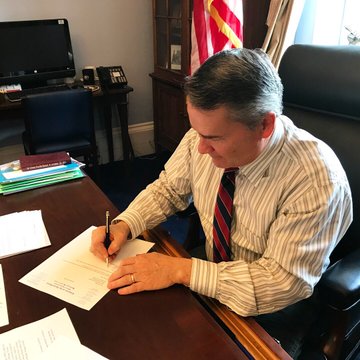 If our servicemembers aren't getting paid, then neither am I. Today, I informed the Chief Administrative Office that I'll have my pay withheld until a funding bill is passed & gets our men & women in uniform their hard-earned pay. It's your move, @SenSchumer.
"If our servicemembers aren't getting paid, then neither am I. Today, I informed the Chief Administrative Office that I'll have my pay withheld until a funding bill is passed & gets our men & women in uniform their hard-earned pay. It's your move, @SenSchumer. #SchumerShutdown"
These are the type of hard-working people we WANT in our government and who understand that you should not play politics with people who are giving their lives for our country every day!
Another Report: gwinnettdailypost
As the shutdown of the federal government went into effect Saturday, Georgia's U.S. senators and at least two of the three people who represent parts of Gwinnett in the House pointed fingers as they tried to place blame for the impasse.
Although the House of Representatives passed a short-term spending measure Thursday night, the Senate could not reach an agreement by Friday night on a spending proposal. As a result, the government shut down for the first time in more than four years.
U.S. Sen. Johnny Isakson, R-Ga., expressed frustration with the process, pointing to the lack of an agreement on the Children's Health Insurance Program, or CHIP, as an example of the breakdown.
"It's time to stop the theatrics and get to the business of governing," Isakson said in a statement. "For too long we have been kicking the can down the road on an operating budget for our government. A continuing resolution is not the path I would choose for good governing.
"Now we can't even put aside partisan differences and agree to move forward on a continuing resolution under which we all agree on the big, underlying priorities."
The Senate voted 50-49 on a procedural motion to advance the short-term funding bill that would have kept the government open a few more weeks, but it needed 60 votes to advance it under procedural rules. Republicans could not reach that number without enticing at least some Democrats to cross the aisle and support it.
Congressional leaders were expected to spend the weekend trying to work out a deal in an effort to get the government reopened Monday. A shutdown means thousands of federal government employees will be furloughed and nonessential services will stop operating until a spending bill can be passed.
Active duty members of the military will continue to work, but they will not be paid. On Saturday, House Democrats called on the chamber to pass a bill to make sure service members continue to be paid during the shutdown though.
Like Isakson, Sen. David Perdue, R-Ga., also said he was frustrated with the lack of a long-term spending measure. Perdue said Democrats are to blame for the shutdown, though, and called it a "Schumer Shutdown," a reference to Senate Minority Leader Chuck Schumer, D-N.Y.
"It is totally irresponsible for the Democrats to use government funding as a bargaining chip," Perdue said in a statement. "Democrats have created a false deadline by trying to tie illegal immigration to government funding. As I've consistently said, these are two totally different issues and should be dealt with separately."
Rep. Hank Johnson, the only Democrat among the three members of the House of Representatives who represent part of Gwinnett, said Republicans are to blame for what he called the "Trump Shutdown."
"My community is suffering because Republicans were so obsessed with handing tax breaks to corporations and the wealthiest that they forgot their responsibility to the American people," Johnson said. "Republicans control the House, the Senate and the White House, but they couldn't get it together to do something as basic as keeping government open.
"Now, Republicans' incompetence has endangered our economy, hurt our communities and dangerously deprived the military of the certainty they need to keep our nation safe."
But Rep. Jody Hice, R-Ga., criticized Democrats in the House for not supporting the spending measure that would have averted the shutdown when it came up for a vote in that chamber. On Friday, his office posted a screen capture on Facebook of what they said was a letter House Minority Leader Nancy Pelosi sent to her fellow House Democrats.
The letter thanks them for voting against a short-term spending measure that would have kept the government running while praising them for showing unity, and said Democratic leadership in the House showed courage for not supporting it. The House approved the spending measure Thursday night with all but six Democrats voting against it.
"The notion that Nancy Pelosi is congratulating her Democratic allies for 'courage' and 'leadership' really shows how misguided and out of touch they truly are," Hice said in a statement with the screen capture. "Blocking funding for our military and children's healthcare shouldn't be considered 'courage' or 'leadership' in anyone's book. #SchumerShutdown."
SHARE if you think everyone in Congress should have their pay suspended until the shutdown is over!